Here are some of the most popular reverb pedals among rigs on RigShare

Well known for its infamous "Cloud Reverb," the Strymon BigSky sits at the top of Reverb pedals among guitar rigs across RigShare. Whether you are working with an instrument, voice, or synth, BigSky is a great choice for reverb effects. In addition to the great presets right out of the box, BigSky gives you control of key parameters such as decay, pre-delay, and tone to shape the reverb sound to your taste. If reverb is an essential part of what makes your sound, BigSky is definitely a pedal to consider.

If you're looking for that iconic reverb sound of historic amplifiers in the 1960's, then look no further than Flint. Even though Flint is a combo tremolo and reverb pedal, it lives up to all expectations of a powerful stereo reverb. This pedal is unmatched in the way it creates that historic and perfect blend of tremolo and reverb to achieve that unique 60's, 70's, and 80's feel. Flint is great at delivering smooth and pulsating effects. Tweak any of its 8 parameters to really fine tune the coexistence of your reverb and tremolo sound.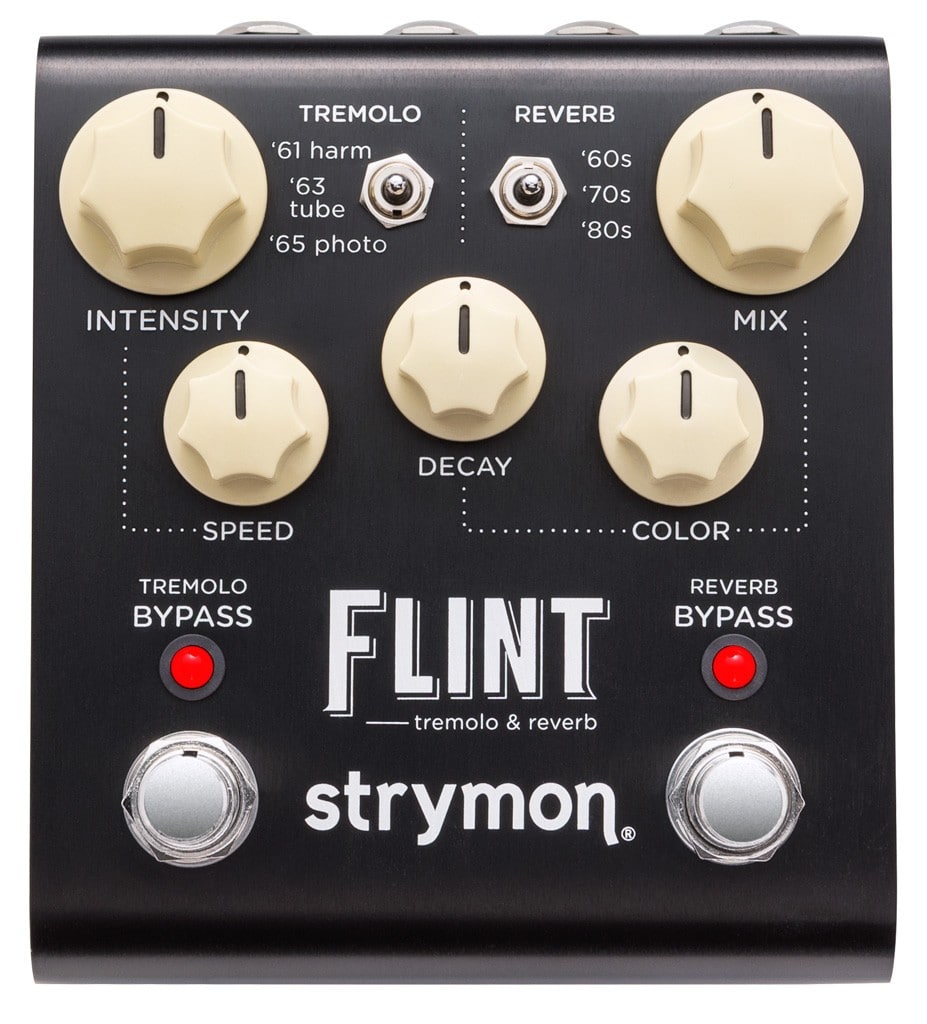 Designed for guitar players who love to play with a lot of expression, the Hall of Fame Reverb 2 is a unique reverb pedal in the way it is designed. It has an expressive footswitch for controlling expression simply by changing the amount of pressure that is applied to the footswitch. Use any of the 8 onboard reverb presets or create your own fine tuned settings and save them to the 3 available spots. The free TonePrint App also allows you to add signature tones right into your pedal. All of this and more makes this an all around great reverb pedal.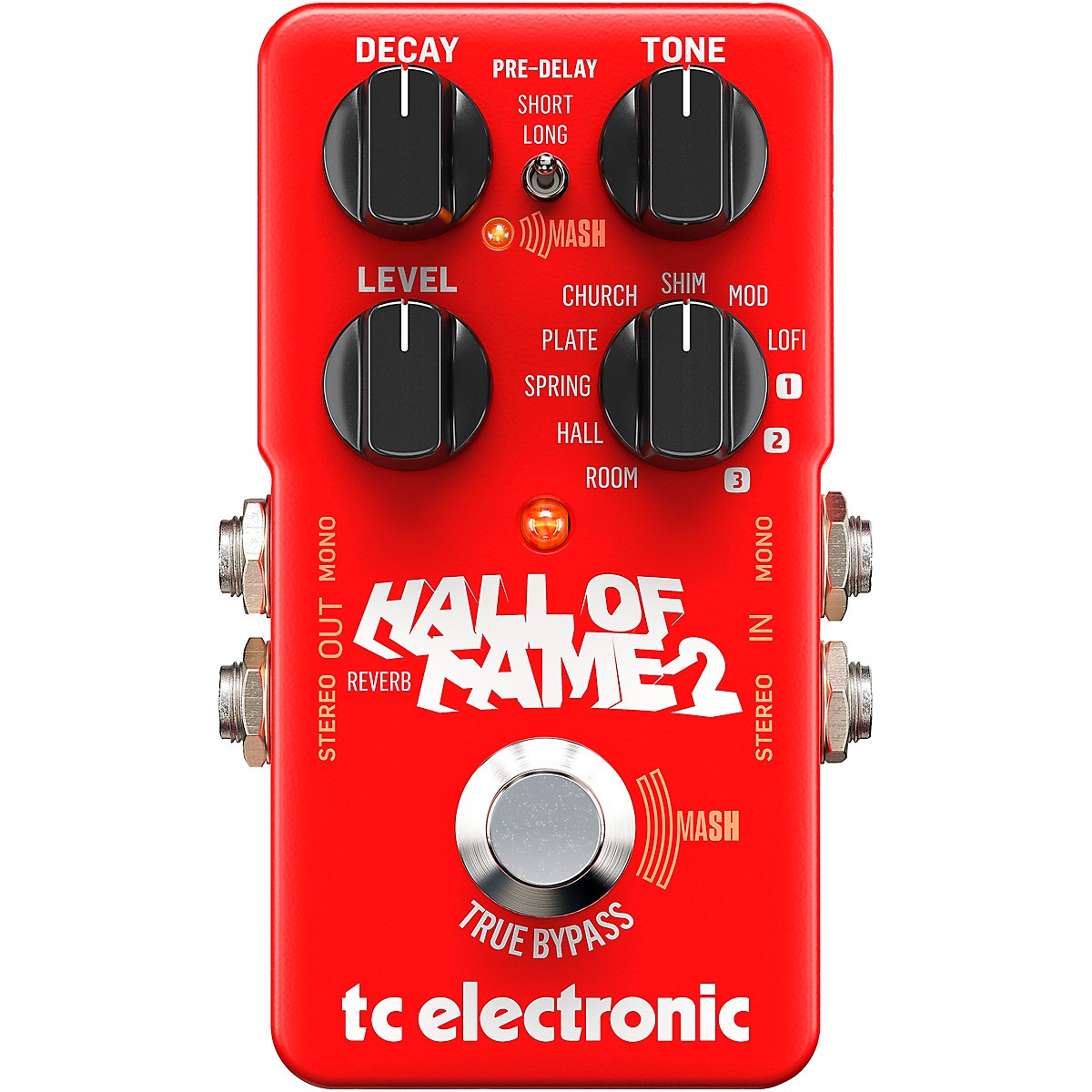 Bluesky is an intuitive reverb pedal that is just easy to use. It preserves sound keeping them as natural as possible while still being able to give that big reverb sound found in other Strymon pedals. Bluesky allows you to control parameters like shimmer, pre-delay, decay, and it also has damper controls to dampen low and high frequencies. It has stereo capability, a bypass switch, and some different modes to work with for tailoring your reverb sound perfectly. BlueSky is a medium sized reverb pedal that can be integrated into almost any pedalboard.

Hall of Fame Reverb Mini is a compact reverb pedal that is designed to fit on even the smallest pedalboards. With the TC Electronic Tone Print library built in, one knob adjusts all the sounds of this reverb pedal. It's hard to find a more versatile reverb pedal with as much sound that is smaller than this one.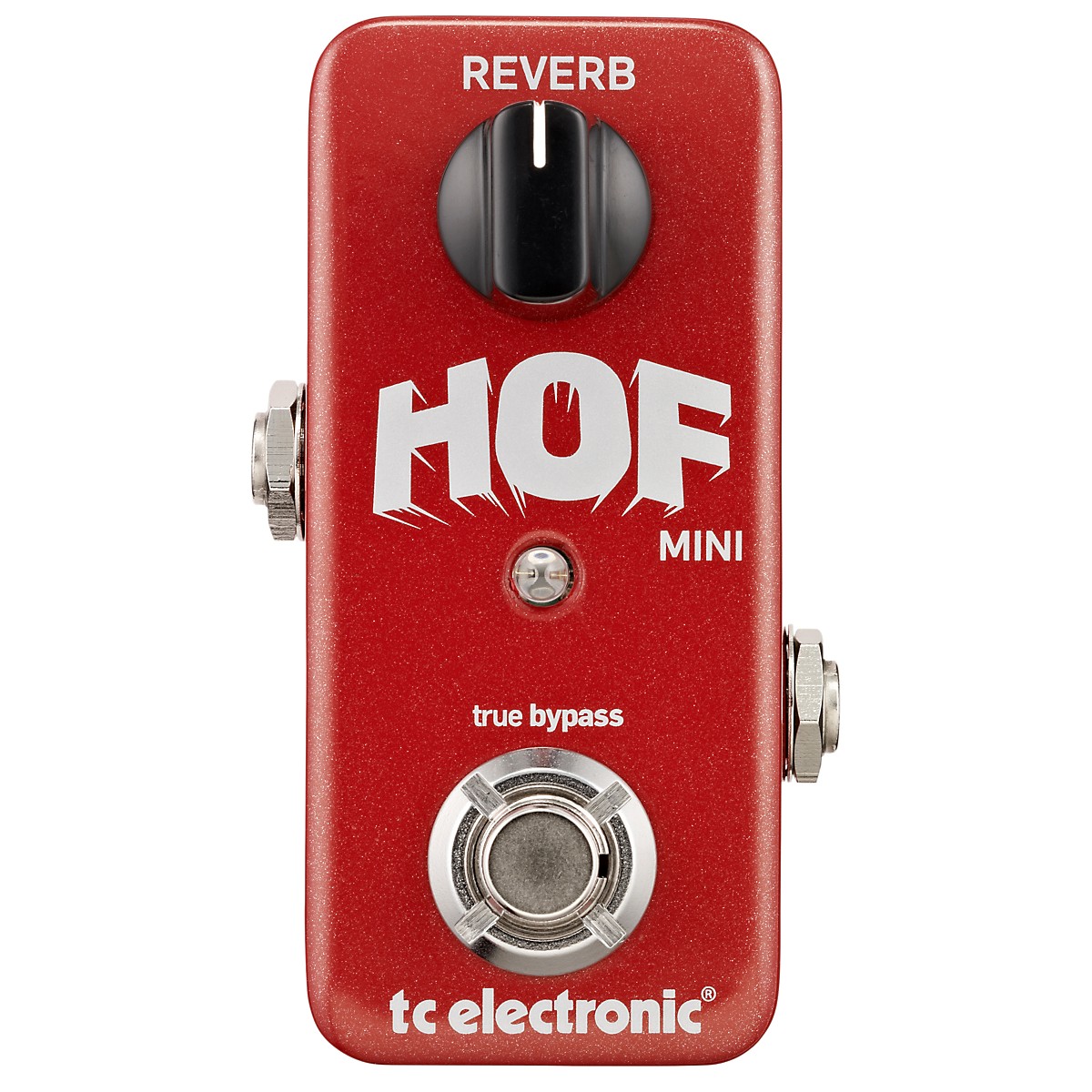 If you are looking for a reliable, standard, and basic reverb pedal, the RV-6 might be exactly what you need. The Boss RV-6 is a versatile reverb that is laid out in a simple interface making it straightforward and easy to use. Change settings easily on the fly and enjoy a great high quality sound coming out of this pedal that inspires you to create.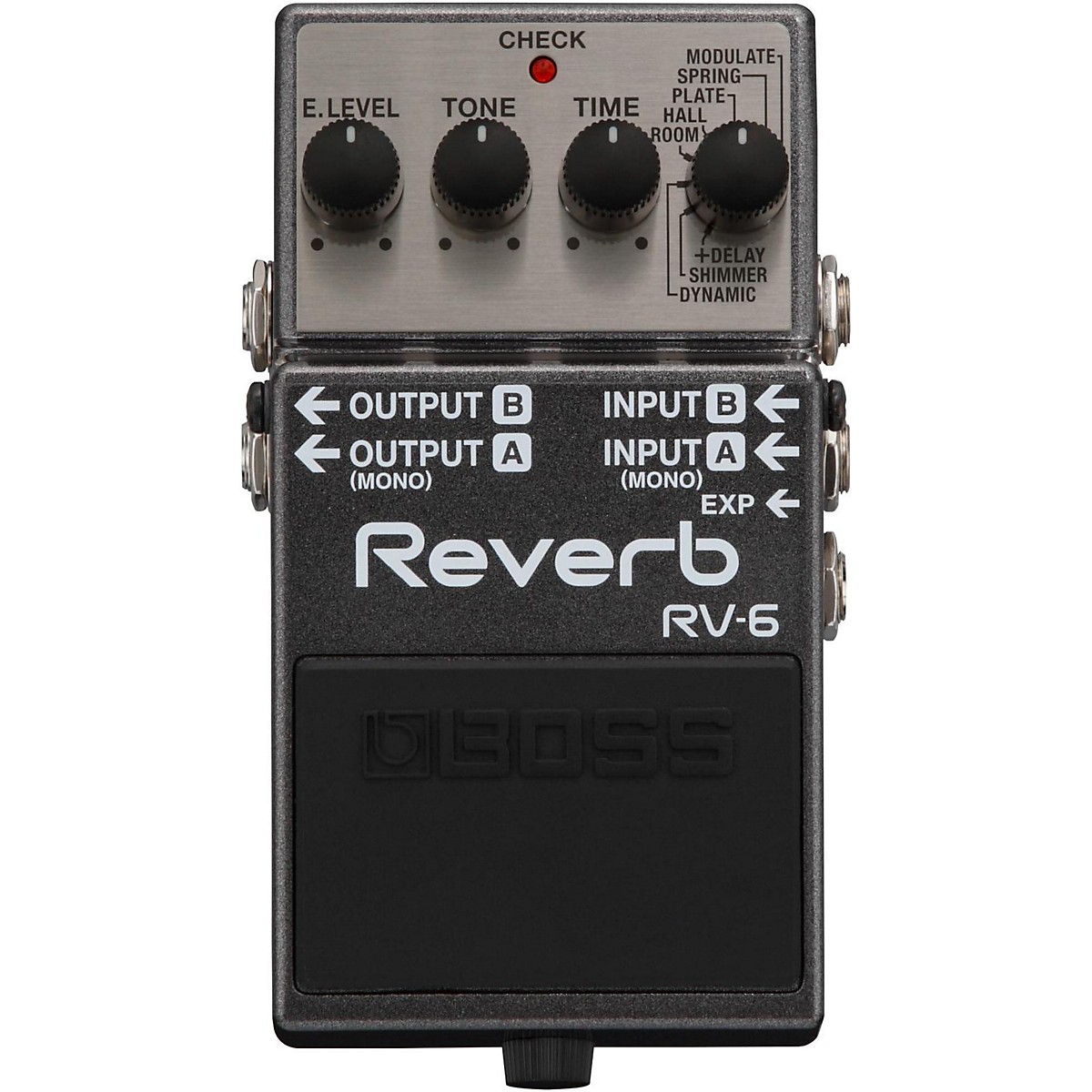 This reverb pedal is extremely powerful as it is packed with great features, including 24 studio quality algorithms, midi functionality for control, and great ambient sounds. The universal control port allows you to plug in an expression pedal, external tap switch, control voltage, external audio input and MIDI all via a ¼" jack. Even with all the many features inside, this pedal has a small footprint and avoids laborious menus giving it a great balance between ease of use and versatility.

The Oceans 11 is an inexpensive and reliable reverb pedal. It is powerful as it houses 11 different reverb modes to play in giving you a big reverb sound, hence the name "Oceans 11." This pedal will have you playing with new styles of reverb that you might not have otherwise ever considered before.

The RV-500 is the most powerful reverb pedal made by Boss and one of the better sounding pedals out there. It comes with great presets while also giving you the parameters to fine tune your reverb sound. It is a great match for adding reverb to guitar, piano, vocals, and more. It comes with MIDI functionality for extensive control. If you are looking for a reliable reverb pedal, you cannot go wrong with this one.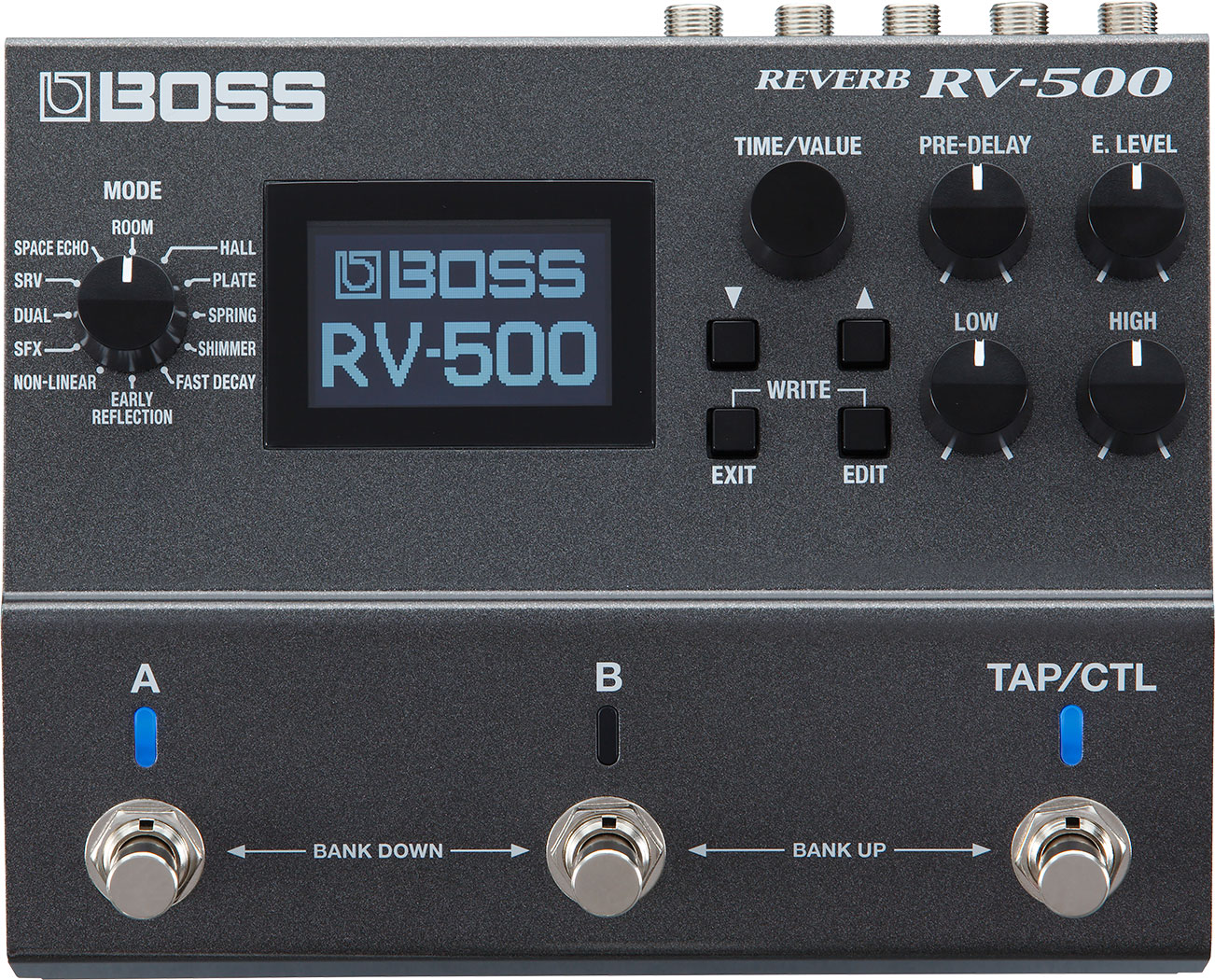 The Source Audio Ventris is a do it all type of reverb pedal. It's user interface is laid out a little differently than most other reverb pedals, but it is still very easy to use. It packs a lot of power as it has 14 reverb engines built on 2 different processors. It's like having 2 reverb pedals in one housing. The Ventris is designed well, and it can stand up against any other high end reverb pedal on the market in terms of quality of sound. It has a lot of configurations and can also be easily controlled via midi using the Neuro software application.

If you know Chase Bliss Audio pedals, you can expect to be amazed every time. The Dark World is the first all digital pedal made by Chase Bliss Audio, and it has not disappointed. This reverb pedal was a collaborative effort from Cooper FX and Keeley Electronics. It's divided into 2 sections, Dark & World. It has 33 routing combinations making it very versatile. Not to mention, it works with midi, presets, and has a dipswitch, all reasons why the Dark World reverb pedal is definitely a must have.

The Slö reverb from Walrus audio is a great pedal for getting a non-traditional, but lush reverb sound. It has everything from quick action reverb to dark and mysterious sounding reverbs. This is definitely a great pedal for creating an ambient sound. Slö can be played in its various modes and has several different parameters to bring versatility to the reverb sound. It's a great addition to any pedal board.

We'll be sharing more great info about trending gear in the RigShare Community. If you haven't already, sign up today and share what music gear you are currently using.