Our pick of Top Reverb Pedals for the Year 2021:
The Strymon BigSky offers the most popular reverb pedal out there and for good reason. If you haven't experienced the "Cloud Reverb," you don't know what you're missing out on. The BigSky works great with instruments, vocals, synths, you name it. BigSky gives you control of key parameters such as decay, pre-delay, and tone to shape the reverb sound to your taste. Use midi to control presets or create custom settings that fit your tastes. If reverb is an essential part of what makes your sound, BigSky is everything you will ever need, and more.
The MXR Reverb has 6 distinct reverb sounds delivering high quality reverb. This pedal has a unique "Constant Headroom Technology," giving you 20 Volts of headroom to add that wetness to your sound. It is a small compact pedal operated by 3 knobs for ease of use. This pedal has stereo input and output, so it's a great choice as well for recording situations. Get your hand on one of these!
The Hall of Fame Reverb pedal is designed with guitar players in mind who love to play with a lot of expression. One unique and cool feature of this pedal is how changing the amount of pressure applied to the footswith will change how expressive the reverb will be. There are 8 onboard reverb presets to work with, or you can create your own using the 3 available customizable spots. This pedal also works with the TonePrint App, a free app that allows you to add signature tones right into your pedal. If you're looking for a simple reverb pedal to add to your pedalboard, the Hall of fame Reverb is a great pedal of choice for your pedalboard.
The bluesky by Strymon is an all around fun and intuitive reverb pedal. BlueSky is about the closest thing to it's bigger brother BigSky and other Strymon pedals. With blueSky, you have complete control of parameters like shimmer, pre-delay, decay, and damper controls to dampen low and high frequencies. BlueSky is a stereo reverb pedal that has a bypass switch and some different modes to fine tune your reverb. If you're looking for big reverb sounds in a medium sized pedal, blueSky will work perfectly for you.
For the mini pedalboards, or just for having a great reverb pedal that doesn't take up a lot of space, look no further than the Hall of Fame Reverb 2 Mini. It has the TC Electronic pressure sensor-sensitive footswitch for dynamic playing. This pedal is also very simple to use as it is controlled by a tone, decay, and a level knob. Hall of Fame Reverb Mini is probably the smallest reverb pedal that is also the most versatile and easy to use because of its simple interface.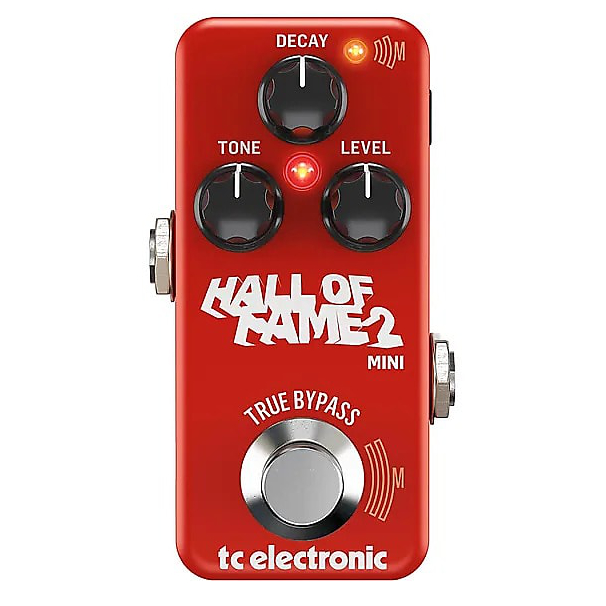 The RV-6 is what you would classify as a basic reverb pedal, but don't let that fool you. This reverb pedal is still highly reliable. It's a straight-forward and easy to use reverb pedal, but it will still be versatile enough to give you subtle reverbs all the way up to big room echoes. The settings are designed to be changed easily on the fly that makes this pedal great for use in fluid situations where you need to make adjustments fast.
The Empress reverb is packed with great features, including 24 studio quality algorithms, midi functionality for control, and great ambient sounds. One of the coolest things about this pedal is the universal control port. Plug in an expression pedal, external tap switch, control voltage, external audio input and MIDI all via a ¼" jack. Even with all the many features inside, this pedal has a small footprint and avoids laborious menus giving it a great balance between ease of use and versatility. This is one of those pedals that you'd have to try out and play around for you to see how much you would fall in love with it.
The Mercury7 is known as a fantastic studio grade reverb pedal. Its packed with amazing sound that covers room and hall typer reverbs all the way to very saturated ambient sounds. It has pitch settings to really play with the reverb effect of your sound as well as low and high frequency dampers. Since it is a studio grade pedal, you can enjoy the benefit of stereo inputs and outputs. Use an expression pedal and control all parameters simultaneously. This is all around a solid pedal that will not disappoint.
The RV-500 is the most powerful reverb pedal made by Boss and one of the better sounding pedals out there. It comes loaded with amazing presets but yet gives you the parameters to fine tune your reverb sound. This pedal can be widely used for adding reverb to guitar, piano, vocals, and so much more. It comes with MIDI functionality for extensive control and getting the most out of this pedal. This pedal will surely give you the reliability that Boss products are known for.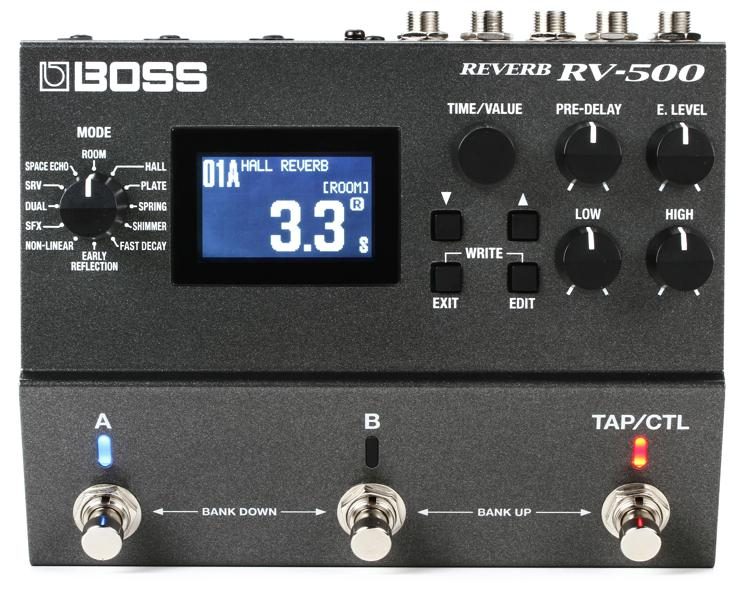 The Source Audio Ventris is a do it all type of reverb pedal. The Ventris doesn't have a traditional user interface but it is still a very easy pedal to use. With 14 reverb engines built on 2 different processors, this device has a good bit of power. Think of it like having 2 reverb pedals, but in one housing. The Ventris is designed well, and it can stand up against any other high end reverb pedal on the market in terms of quality of sound. It has a lot of configurations and can also be easily controlled via midi using the Neuro software application.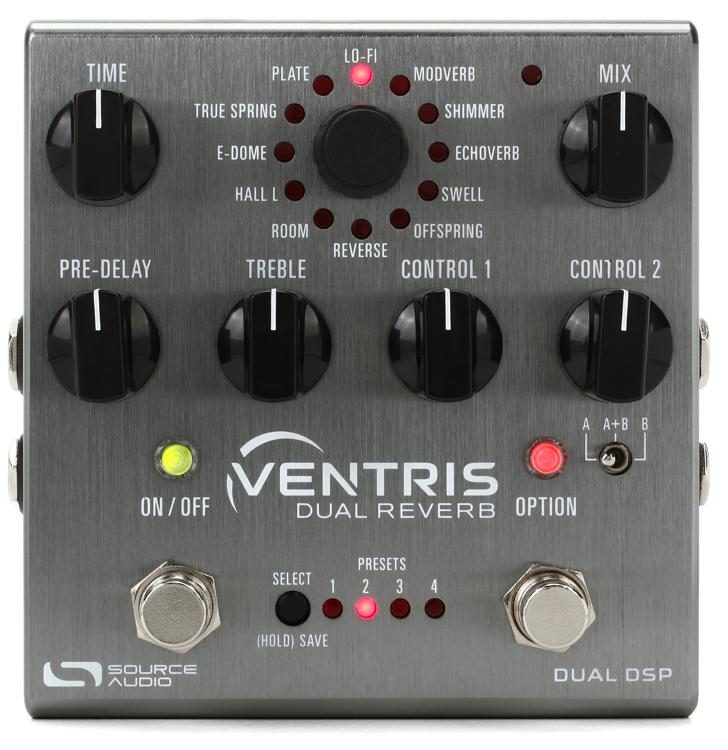 Be sure to check out other great Reverb Pedals on RigShare!